Ethical unboxing I – Sammy Screamer by Bleepbleeps
Funda Ustek-Spilda | December 9, 2019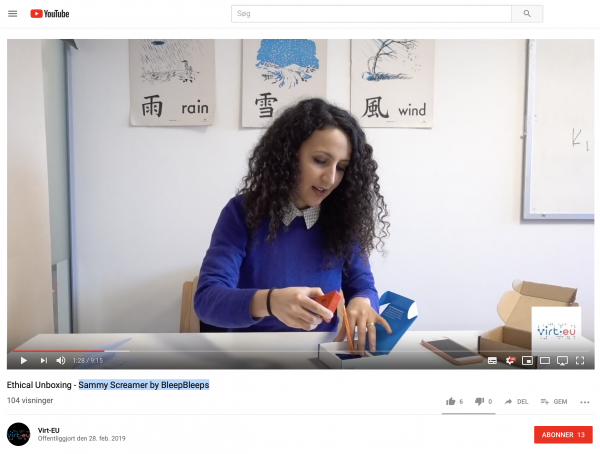 The first video part of our Ethical Unboxing Series explores the sensor-based device Sammy Screamer by BleepBleeps. Sammy Screamer was launched in February 2014 and started being shipped in April 2016. It had a really successful Kickstarter round, raising over $90k with more than 1000 backers. Sammy is a movement sensor that connects to the BleepBleeps smartphone app. BleepBleeps advertises that you can stick Sammy on the stuff you want to keep an eye on – like a door, a bag or a kid's buggy or the cookie jar. When they are moved,  Sammy starts screaming and you get a notification on your smartphone. The level of sensitivity to movement can be adjusted, so can its volume.
We have reviewed Sammy on five values we have identified throughout our ethnographical fieldwork in the internet of things (IoT) space: Privacy, Security, Interoperability, Usability and Sustainability for our unboxing video.
Privacy and Security
One of the main reasons we decided to make these unboxing videos at Virt-EU is that it is incredibly difficult to get hold of privacy and security policies of IoT devices before actually buying them. Company websites usually only feature privacy policies for the websites and not the devices themselves.

One thing we noticed when we received Sammy is that, the box did not include any information on the privacy or security of the device. As you can see in the video, we just received a plain little box with the device in it. This means that as a user, if you would like to try and test this device, you are giving your consent to its privacy and security settings, without actually knowing what they are.
We found through an online search that BleepBleeps collects some technical information like IP address, location to help them to "better understand who is using the Services and how they are using it." They also mention that they "may combine this information with the information you give us and the information we collect about you."1 and that "they may use this information and the combined information for the purposes set out above (depending on the types of information we receive". We found this paragraph incredibly confusing and a mouth-full to read. What information is that and how is it being collected and combined? What happens to that information? We don't know.
We then thought maybe these privacy and security policies will be prompted to us once we download the BleepBleeps app and pair the device. We did find that there is a small print of the privacy policy on the main page of the app before sign up, but this is not sufficient for GDPR. It needs to ask for specific consent and the user needs to review the actual policy before pairing the device and the app. More specifically, implied consent is not allowed under the rules of GDPR anymore.2
In general though, because Sammy Screamer uses only bluetooth connection and not Wi-Fi, it can be argued that it might be a bit more secure and less vulnerable to attacks. BleepBleeps notes that it is difficult to pair a device that has been already paired with an app to ensure that Sammy does not get hacked by outsiders who can turn it on and off.3 This is good design thinking, but as we will discuss later when it comes to usability, bluetooth also significantly reduces the usability of the item. But more on that later.
Interopelability
In terms of interoperability, we can say that since bluetooth is now available nearly on all smartphones, Sammy can be easily set up and paired with all phones. BleepBleeps notes that several Sammies can be paired with a single device.4 This is very useful design thinking if you would like to have multiple Sammies for different purposes.
However, Sammy can be paired with only one phone at a time.5 This means that only one person can have control over the device. We think this significantly reduces its usability, but understand that this is a limitation of the bluetooth bonding protocol BleepBleeps uses and that it is to prevent others from connecting to your Sammy6 in order to make it more secure.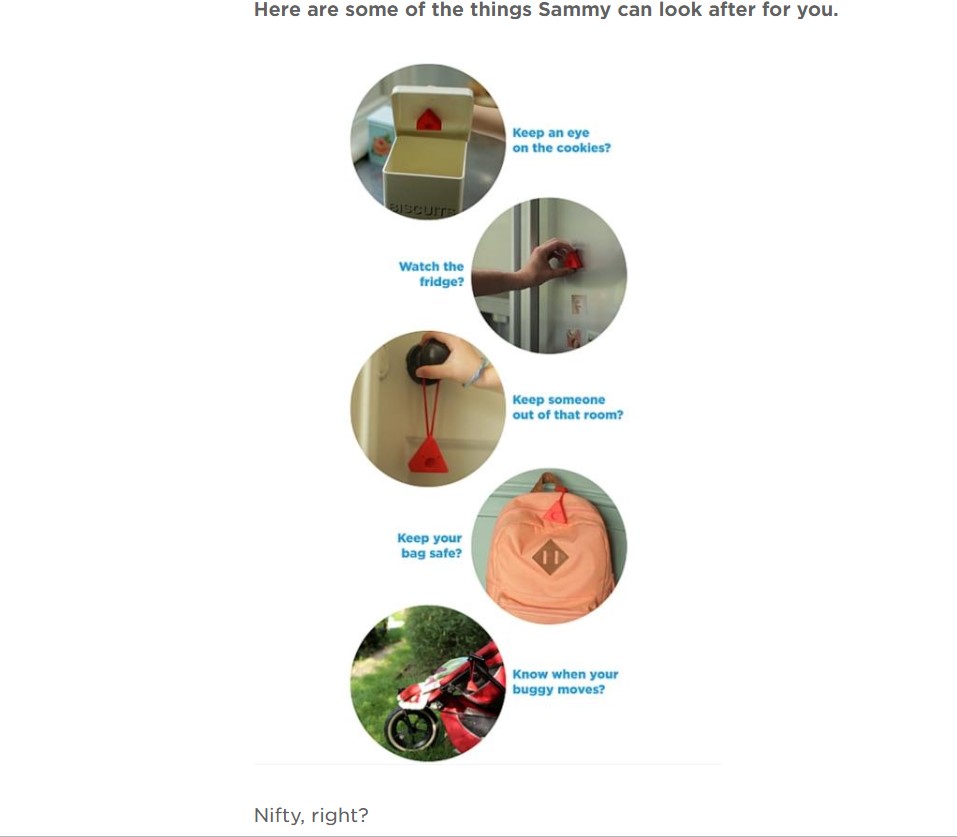 Usability
As part of our review process, we also analysed the Amazon reviews Sammy Screamer received and reviews on the BleepBleeps blog. In general, reviewers mentioned that Bluetooth connectivity was poor, resulting in poor usability. While some mentioned that the bluetooth connection is not stable and it often connects and disconnects resulting in frequent alerts to the user even though no item has been moved, others noted that the bluetooth range of 5-7 meters was very short to be of use at all. In general, though, users stressed that they liked the idea and the design. It is indeed very neat and cute- but that the range is quite limited and with no wi-fi functionality its performance leaves room for improvement.
Sustainability
The first thing to mention when it comes to sustainability is that Sammy does not come with rechargeable batteries7. On their website, BleepBleeps says that "it depends on the amount of use you get out of Sammy and how often she screams."8
"The simple cell battery will last approximately 6 months if left sleeping, 3 months with moderate use and 1 month with heavy use, which is 24 hours a day. Approximately 1000 alerts on full volume would drain the battery."
For increased usability, it would be better to be able to charge Sammy rather than using batteries. This would be much better for the environment as well. However, BleepBleeps notes that it is easy to change the batteries19 and users can prefer to use rechargeable batteries when they change them.
Sammy has a full plastic casing. These cases are made in China and assembled in the UK. In general, it would be great to have more information about the kind of plastic used in production, and whether it is recyclable. It would also be desirable if BleepBleeps had a recycling scheme for its products and their batteries.
To conclude
We loved the design of Sammy and were impressed by the design-thinking behind it. Many internet of things devices include cameras, recorders, trackers and so on without putting much thought into their implications for the privacy and security of the individuals. Despite the fact that some users noted that without WiFi, Sammy's usability left room for improvement, we appreciated that this was a design decision to make the product more secure, and protect it against attacks.
We would have liked to have more information about the data collected by Sammy and have more detailed information on how BleepBleeps uses that data. We found that the consent sought from users was implied consent only, and would prefer users to be actively encouraged to inform themselves about the privacy policies that govern their device and data.
We will continue our unboxing videos on our YouTube channel and our blogs on the Virt-EU website. Please follow us and let us know if there are any internet of things devices you would like us to review.

I would like to thank Ed Johnson-Williams (Open Rights Group) for assisting me with research for the blog post and the unboxing video.